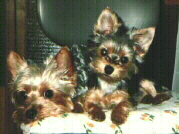 Today, I would like to introduce my husband to you all. This picture was taken quite some time ago. His name is Asakichi. Isn't he adorable? But please don't copy this picture because he is all mine!
He was one year older than I. What a handsome guy he was! This picture was taken 12 years ago when I was only 4 months old. Having a future mate already chosen at childhood is not favorable, but he was absolutely an exception because he was so robust and handsome that I liked him right away.

I am rather quiet, but Asakichi was impetuous and gabby. What was more, he was oversensitive, touchy, and picky, but he did not nag me at all.
Instead, he was very sweet to me. You may say that he really loved me.
Five years ago, he unexpectedly passed away in the summer and went to heaven. I was very shocked with disbelief, and so I wept and wept at his sudden death.

Since Asakichi's untimely death, I have been single. I wonder if there is anyone who is more charming a widow than I.
Although Asakichi and I had no children to our disappointment, I do not feel so lonesome because I do have a lot of wonderful memories with him. (Sob...)
I hope that you will visit my homepage and listen to my story again. Iam really forgetful now, so when I remember, I will talk about some old stories. So long.